SRP Application Launcher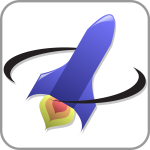 SRP Application Launcher
For the modern application, simply launching OINSIGHT.exe from a shortcut isn't enough. The SRP Application Launcher provides a professional executable that can do more than simply launch your application.
Customizable
The SRP Application Launcher allows you to provide your end users with an executable file using the name and icon image you want. This also conceals the command line parameters needed to launch your application. 32-bit splash screens are supported, giving your application the most professional look. Customize how long the splash screen is visible, and choose to have OpenInsight open immediately behind the splash screen or wait until it has disappeared. You can even disable the splash screen altogether, a useful feature for users in a hurry or for remote solutions like Citrix or Terminal Server.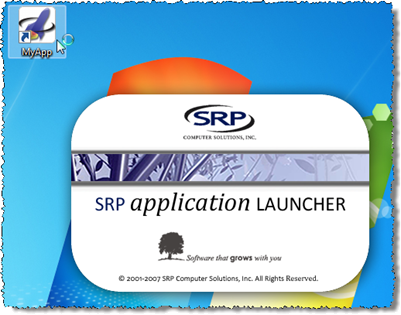 Single Instance
Some applications are designed to be single instance, but enforcing this has been difficult at best until now. The SRP Application Launcher can make your application single instance with no programming required! Simply place our SRP Launcher ActiveX Control on your main application window and SRP Application Launcher will ensure that the application is never run twice. Remove the SRP Launcher ActiveX Control, and now your users can launch as many instances as they want.
Launch Prevention
The SRP Application Launcher can also prevent the user from launching an application. Just set a flag in the configuration file, and when the user attempts to launch your application he or she is given your custom message explaining the reason. This feature is especially useful for preventing users from logging in during a complex update or a database backup process.
File Maintenance
The SRP Application Launcher isn't just eye candy. Some tasks are best performed before OpenInsight runs, especially when it comes to working with files that may become locked—like DLL and OCX files. The SRP Application Launcher will perform file swaps on your behalf. Need to update a DLL? Just have your update utility place a DL~ file in the directory, and have the user restart by running the SRP Application Launcher. The SRP Application Launcher will then replace the DLL matching your DL~ file.
Automatic Registration
The SRP Application Launcher can automatically and silently register OCX and DLL files. This is especially useful for application updates or for users unfamiliar with the finer details of OLE technology.
Multiple Launchers
Some OpenInsight environments contain more than one application. This is no problem for the SRP Application Launcher. Simply create as many launchers as you need, renaming each one to best indicate its purpose. The SRP Application Launcher automatically looks for a configuration file with the same name. Do you support development and runtime engines in separate folders? Again no problem for the SRP Application Launcher. Different configuration files can be told to use different target folders.
Price and Licensing
The SRP Application Launcher is $90 and includes one year of technical and upgrade support. The developer is permitted to use this license in any supported development and deployment system. All serial numbers must be provided at the time of purchase. Additional serial numbers can be added for a $50 administration fee. Please see our License Information and FAQ page for further information. All pricing in USD and subject to change without notice.