SRP Mail Utility
The SRP Mail Utility brings complete programmatic email control to OpenInsight. Use it to send emails directly through SMTP supported email servers, whether they are local or remote.
Simple
The SRP Mail Utility is easy to use. The stored procedure has a mere two parameters: one for the email and one for the server information.
Professional
More and more email clients support HTML formatted emails, so sending professional looking emails is within everyone's reach. The SRP Mail Utility makes HTML formatted emails a snap.
Complete
The SRP Mail Utility meets all your email requirements: attachments, importance, CC, BCC and a "reply to" fields. The SRP Mail Utility also authenticates your email for you so you don't have to worry about email server rejections which are common with other solutions.
Easy
Convenient service module hides common settings so you just send your email knowing it will be secure.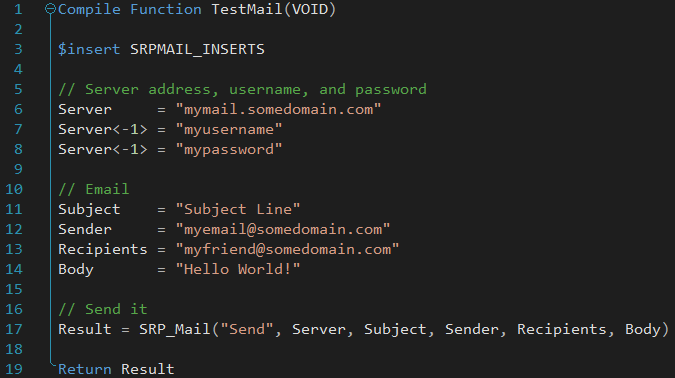 Price and Licensing
The SRP Mail Utility is $115 and includes one year of technical and upgrade support. The developer is permitted to use this license in any supported development and deployment system. All serial numbers must be provided at the time of purchase. Additional serial numbers can be added for a $50 administration fee. Please see our License Information and FAQ page for further information. All pricing in USD and subject to change without notice.