SRP Subclass Control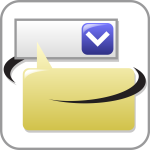 SRP Subclass Control
The SRP Subclass Control uses ActiveX technology to enhance standard OpenInsight controls with increased functionality. User experience is improved without losing the built in features of standard OpenInsight controls. Currently, you can subclass three controls: EDITLINE, EDITBOX, and COMBOBOX.
EDITLINE and EDITBOX
OpenInsight EDITLINE and EDITBOX controls receive the following additional features:
Spin Button
Spin buttons are placed on the right side of the control and are useful for numeric fields.

Option Button
Option buttons appear on the right side of the control. Use them as links to other forms or selection lists.

Multiple-Column Drop Down
Give users advanced combo box using our Multiple-Column Drop Downs. Type normally or click a drop down button for a combo box drop down. Multiple columns, auto fill, and filtering are all supported.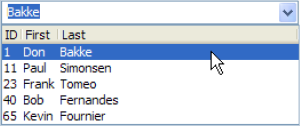 Prompt
Prompts are messages that appear within the edit line when it's empty. You can customize the font, alignment and color of a prompt independently from the edit line's normal text.

Mask
Improve user input accuracy using masks. Masks are effective ways of ensuring valid input because they prevent the user from typing ill formatted data. They also act to cue the user as to the type of input expected such as date or phone number.

COMBOBOX
Currently, there is one new feature available to subclassed COMBOBOX controls:
Disable Mouse Wheel
Disable the mouse wheel for individual combo boxes to prevent users from accidentally changing vital data. Sometimes, a user may not be aware that a combo box has focus and will move the mouse wheel in an attempt to scroll inside another control. The result is an accidental change in the combo box, making the form vulnerable to data corruption.
BALLOON TOOLTIPS
Data validation is so common in a database application that using standard message boxes to notify users of mistakes can be very distracting and sometimes ineffective. Balloon tooltips are very much like message boxes: they can have a title, an icon, a message, and can be clicked. However, balloon tooltips are less intrusive and point to the very control with the error. Your users will never be lost again.

Price and Licensing
The SRP Subclass Control is $150 and includes one year of technical and upgrade support. The developer is permitted to use this license in any supported development and deployment system. All serial numbers must be provided at the time of purchase. Additional serial numbers can be added for a $50 administration fee. Please see our License Information and FAQ page for further information. All pricing in USD and subject to change without notice.