SRP Popup Control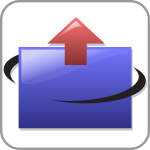 SRP Popup Control
As applications become more sophisticated, automation becomes more commonplace. With it comes the need to notify users of important events or changes. Several notable commercial products achieve this using a small popup window that appears in the lower right corner of the screen. The SRP Popup Control brings this functionality to OpenInsight.
Theme
The SRP Popup Control supports several built themes. Choose between MSN Messenger, Office 2000, or Office 2003 look and feel. Or, create your own theme using our breakthrough Color Fill technology.

Layout
The SRP Popup Control is like a miniature form. You can place any number of items on its surface: labels, images, hyperlinks, or buttons. Each item's font and colors are completely customizable.

Translucency
To prevent the SRP Popup Control from being obtrusive, you can have them appear partially translucent. The popup will become completely opaque then the user hovers over it with the mouse.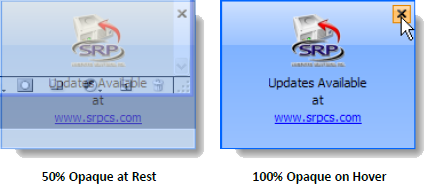 Animation
Popups are appealing in part because of their unobtrusive nature. The SRP Popup Control allows you to choose one of several animations to show and hide your popup. Popups can appear instantly, fade in, slide in, or unfold. You even control the animation speed.
Display
Set a timer for the SRP Popup Control to have it disappear automatically after a few seconds, or make it remain visible permanently until the user responds.
Price and Licensing
The SRP Popup Control is $115 and includes one year of technical and upgrade support. The developer is permitted to use this license in any supported development and deployment system. All serial numbers must be provided at the time of purchase. Additional serial numbers can be added for a $50 administration fee. Please see our License Information and FAQ page for further information. All pricing in USD and subject to change without notice.